Introducing TechHire Maine:
We'll help you make the leap from wishing to working.
Have you always enjoyed solving problems?
Ever thought about working in software or IT?
Have you done a little of it already?
Are your ready to change your career direction for the better?
If you answer "Yes" to these questions, you may be a good candidate for TechHire Maine. Call your nearest TechHire Navigator to learn more!
Northeastern Workforce area (Aroostook, Hancock, Penobscot, Piscataquis & Washington counties): Ryan Grindle, rgrindle@emdc.org, 207-974-3220
download brochure: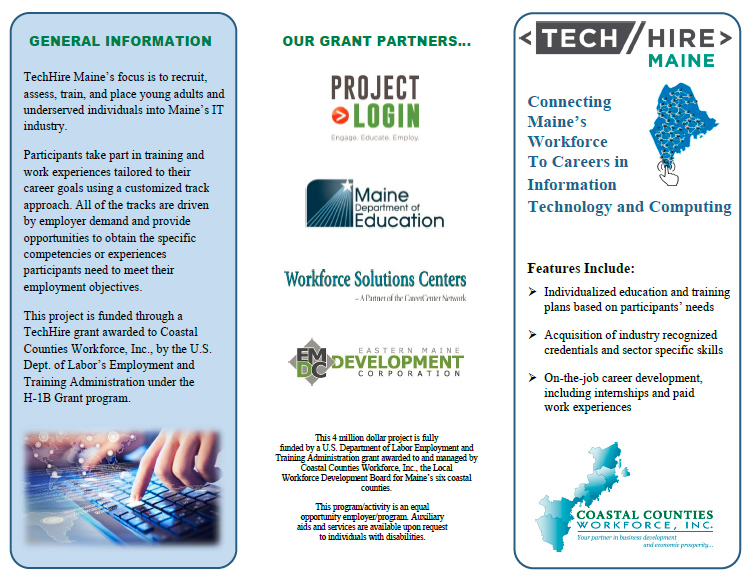 Central/Western Workforce area (Androscoggin, Franklin, Oxford, Kennebec, Somerset counties): Deb Bomaster, Debra.Bomaster@workforcesolutionsme.org, 207-210-4575
download brochure: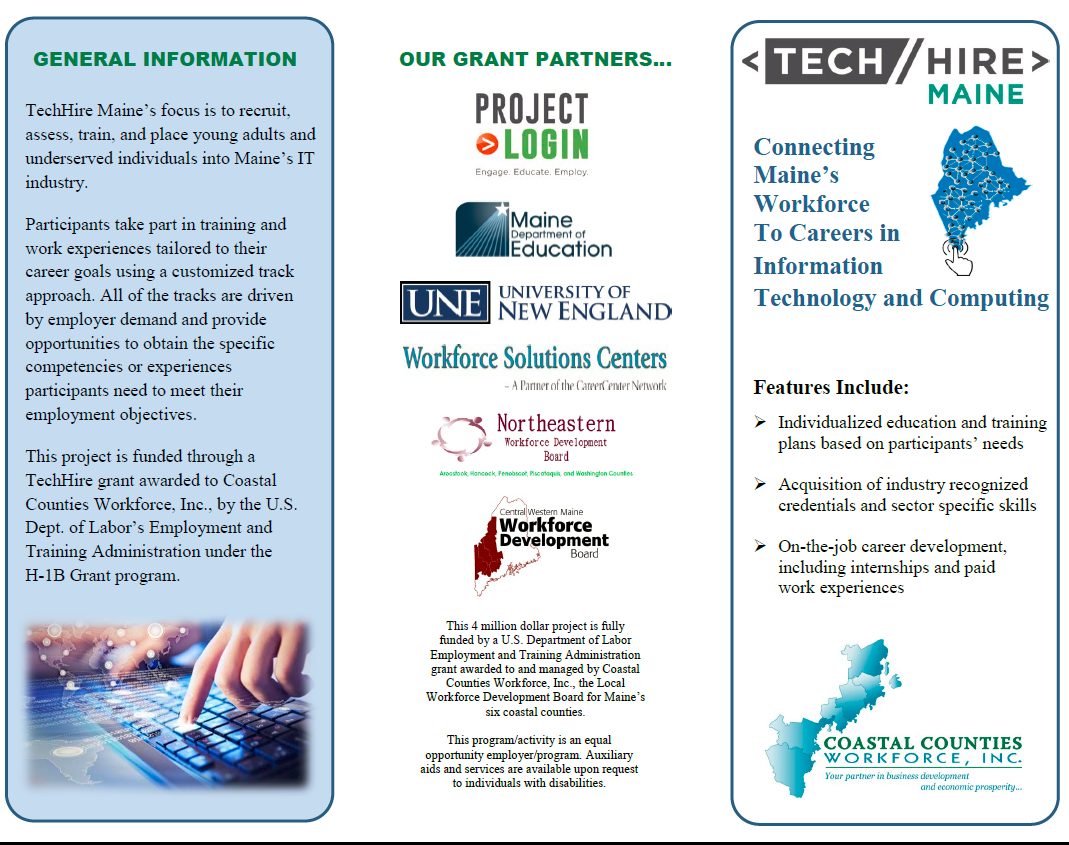 Coastal Counties Workforce area (York, Cumberland, Sagadahoc, Lincoln, Waldo and Knox counties): Dylan Barnett, dylan.barnett@workforcesolutionsme.org, 207-274-9131
download brochure: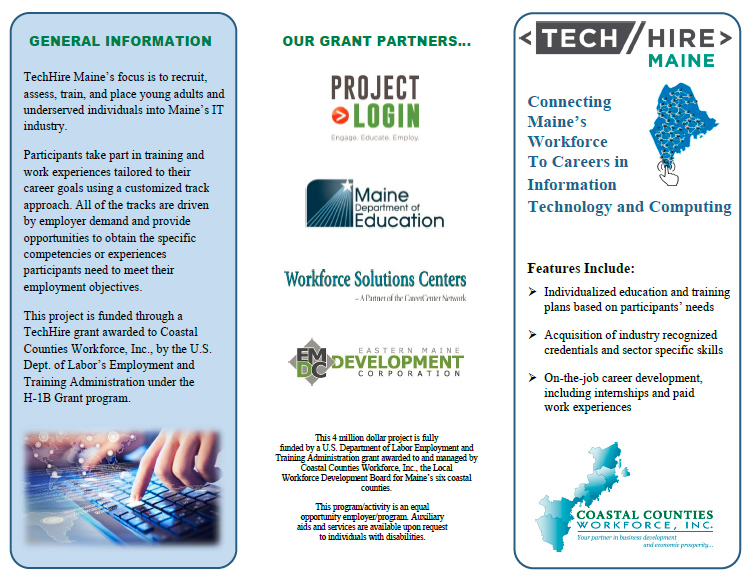 TRaining available:
Depending on a candidate's current skills and experience in math, computing and English language, there are three tracks available:
1. Comprehensive Training > 2. Bootcamp > 3. Rapid Employment
TechHire begins with a free assessment of interest and core competency, then offers a variety of resources to help candidates move through the three tracks to workforce readiness:
Adult Education
Online and In-person Courses
Career Coaching
On-the-Job Training
Internships
ReadY to Apply?
Call one of the above TechHire Navigators to learn how you can begin the process of getting trained and getting to work in a surprisingly short time. You can create an account on the Maine Job Link anytime.
Are you an Employer?
If you're a Maine employer in need of workers with technical skills, TechHire could be a great fit for you! Call us at (207) 347-8638 to learn more.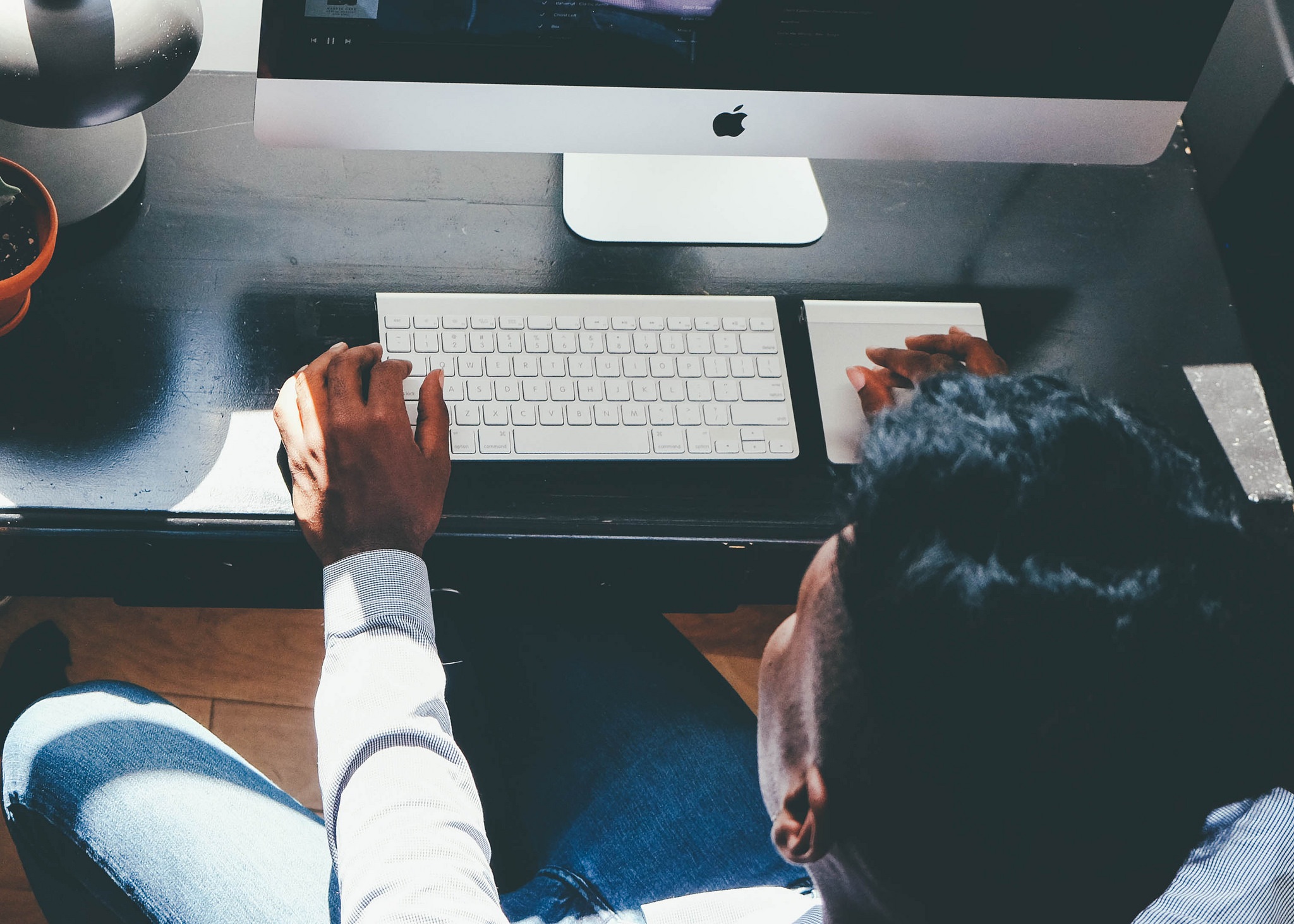 TechHire is a national initiative to connect people with tech jobs through non-traditional pathways. Maine is now one of more than 70 TechHire communities nationwide. Learn more about TechHire Maine.

This 4 million dollar project is fully funded by a U.S. Department of Labor Employment and Training Administration grant awarded to and managed by Coastal Counties Workforce, Inc. Additional partners include: Educate Maine, Maine Dept. of Education, Workforce Solutions, Central Western Workforce Development Board, and Northeastern Workforce Development Board.
"This program/activity is an 'equal opportunity employer/program. Auxiliary aids and services are available upon request to individuals with disabilities."