Project>Login Supports Maine Community Colleges
December 01, 2015
From the Maine Community College System:
Funded by a $13 million grant from the U.S. Department of Labor, Maine is IT! is building new educational and career pathways in information technology at all seven of Maine's community colleges.
The programs funded by the grant are designed to support Maine workers eligible for the Trade Adjustment Assistance (TAA) program, un/underemployed adults, and workforce needs in Maine's growing IT sector. They have been built to serve individuals with a range of experience, from those interested in gaining basic IT skills to IT professionals looking to advance their careers through new industry certifications.
Project>Login welcomes York County Community College
At YCCC, students and staff recently attended a Project>Login reception. It was one of the many activities Maine is IT! students have participated in this fall to connect with career and educational opportunities in their community.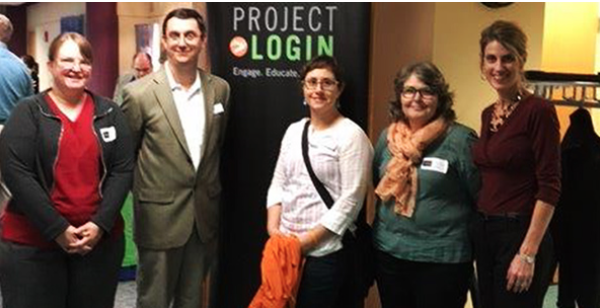 Pictured are computer science student Gisele Clark; Department Chair Mark Monnin; Director of Career and Transfer Services Jessica Gagne; help desk certificate student Marty Schofield; and Student Navigator Danielle Ebbrecht.
Central Maine Community College IT student leads by example
A former substitute teacher, she serves as a role model and tutor for students in her computer technology classes. As a Supplemental Instruction Leader, she leads study sessions and helps students empower themselves academically.
Emily Butterfield, a Student Navigator for Maine is IT!, described Oldriska as "reliable, dedicated, and eternally upbeat." She was even featured in CMCC's computer technology program's promotional video.
Of her future plans Oldriska says: "I will be graduating in May with my computer technology degree and am doing a quick turnaround to get my computer forensics/network security degree at CM in fall 2016. I am looking for an internship for the summer and plan to enter the workforce in January 2017."