Senator King, Project>Login celebrate Maine as a TechHire Region
August 26, 2015
TechHire is a national initiative to connect people with digital tech jobs through non-traditional pathways. Maine was one of only 4 states in the nation to be designated a TechHire region by the White House. In August, Senator Angus King met with successful professionals who have followed non-traditional pathways to get where they are today.
Educate Maine and Sen. Angus S. King celebrated Maine's designation by the White House as a TechHire Community at a launch and press event on Wednesday, Aug. 26.
In early August, Maine was designated as a TechHire Community by the White House as part of an initiative launched by President Obama in March 2015. This recognition, awarded in Washington, D.C., on Aug. 4, was given because ten influential Maine-based employers have committed to recruiting and hiring qualified candidates, regardless of where they obtained their digital knowledge and technical experience.
Educate Maine's Project>Login, a nonpartisan public-private partnership, has been spearheading the effort to expand the network of computing and IT professionals in Maine through engagement, education, and employment opportunities.
Angus S. King, Jr. was keynote speaker at the launch of TechHire Maine. With him were, left to right: Mike Dubyak, Chairman, WEX, Inc.; Don Gooding, Executive Director, Maine Center for Entrepreneurial Development; Susan Corbett, Chief Executive Officer, Axiom Technologies; Ed McKersie, President and Founder, Pro Search, Inc.; Liz Rensenbrink, Human Resources Director, Tyler Technologies, Inc.; Steve Crowley, Global Chief Technology Officer, WEX, Inc.; Bob Sansone, VP Human Resources, Tyler Technologies, Inc.; and LuAnn Ballesteros, Director, Office of Government Relations, The Jackson Laboratory. The full list of participants is below.
The event showcased a behind-the-scenes introduction to five individuals who followed unique non-traditional pathways to rewarding careers in digital technology. One example was Laurie Marcotte, 42, who began her career in Maine in the food service industry before obtaining a job as an administrative assistant at IDEXX Laboratories. Colleagues encouraged her to consider IT, as her intuition with computers was obvious. This led her to the Help Desk, where she worked her way from an analyst position to the Supervisor in only two years. Over a 16-year career, she has held several roles within IDEXX, including her current position as a IT Senior Project Manager. Many other IDEXX employees, including the company's CIO himself, share non-traditional backgrounds.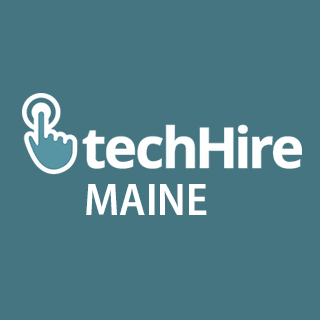 Senator King and TechHire partners encouraged other Maine businesses to join in the effort to recruit and hire qualified candidates, regardless of where they obtained their digital knowledge and technical experience, and also to inspire other Maine individuals to explore careers in digital technology.
"Through Project>Login, IDEXX and many other Maine-based employers are creating and investing in a pipeline of talented professionals in Maine that have the skills and passion to innovate and succeed in a technology-driven market," commented Ken Grady, Chief Information Officer, IDEXX Laboratories.
"We are pleased to have the opportunity to collaborate with our Project>Login sponsors and TechHire partners to connect promising candidates with high-demand careers in computing and IT fields," said Jay Collier, Project>Login Program Director, Educate Maine.
The Executive Director of Educate Maine, Edmund Cervone added, "Educate Maine's goal is for all of Maine's K-12 students to graduate from high school prepared for success in postsecondary education and the workplace. Project>Login is an important part of our goal to create pathways to connect students with Maine employers to gain real world experience and hands on learning."
The following Maine employers have already signed onto the TechHire initiative by confirming they recruit and hire candidates based on their demonstrated technology skills regardless of where they gained them:
Athena Health
Axiom Technologies
Eastern Maine Healthcare Systems
IDEXX Laboratories, Inc.
Kepware
The Jackson Laboratory
Maine Health
Maine Medical Center
State of Maine Office of Information Technology
Tyler Technologies, Inc.
WEX
Senator King, Project>Login's government partner for the TechHire initiative, along with Chancellor James Page of the University of Maine System and Senator Susan M. Collins, has been a strong advocate of the program and will continue to provide strategic guidance. "Maine's designation as a national TechHire region is a recognition of the great work being done across our state to promote careers of the future," said Senator King. "This designation will not only help equip people with the education and skills necessary to thrive in new, cutting-edge jobs, but it will also strengthen Maine's vibrant tech workforce and grow our economy. I applaud Educate Maine and all of the TechHire partners across our state for their work in matching hardworking Mainers to advanced jobs that will position our state as a leader in IT for years to come."
From Opportunity@Work
In TechHire communities across the country, Mayors, Governors, State Reps, Federal Reps, and other local leaders are coming together with local employers and training institutions to map open IT jobs, and to develop a plan for filling these open jobs with a more diverse pipeline – previously overlooked candidates.

The core of this work is what Senator King, IDEXX, Project Login, along with the other elected officials, employers, training partners, and advisors were talking about today in Maine – employers committing to consider qualified candidates regardless of where they achieved competency – including on the job experience and non-traditional training and hiring programs. This change is what creates the opportunity for accelerated training programs to fill open positions faster and with candidates who will create unique value. In Maine, the training institutions – four year as well as community colleges – are expanding curriculum to prepare non-traditional candidates who have the aptitude, drive, and character to put them through accelerated programs, and they will work to build awareness of the credibility of these programs tracking results and practicing transparency.

At Opportunity@Work we are excited about the work that is happening here in Maine. We are looking forward to following the progress, helping to share the practices you that are being pioneered here with other communities around the country, and helping to channel supportive information and resources as appropriate and useful.

—Sally Smyth, Director of Business Development, Opportunity@Work
Attendees
Senator Angus J. King, Jr.

Mike Dubyak, Chairman of WEX, Inc., one of Project>Login's founders
TechHire government partners
Jennifer Rice representing Senator Susan Collins

Rosa Redonnett representing University of Maine Chancellor Jim Page

Adam Lachman, Travis Kennedy, and Matt Junker from Senator Angus King's office
Participating TechHire employers
Susan Corbett from Axiom Technologies

Sharyl White from Eastern Maine Healthcare Systems

Ken Grady from IDEXX

LuAnn Ballesteros from The Jackson Laboratory

Brett Austin from Kepware Technologies

Andy Crowder from Maine Health and Maine Medical Center

Geoff Hook from Maine Health

Bob Sansone, Liz Rensenbrink and Angela Lake from Tyler Technologies

Steve Crowley from WEX
TechHire education partners
Rosa Redonnett from University of Maine System

Marie Hansen and Bill Watson from Husson University

Laurie LaChance and Bernie Ouellette from Thomas College

Henry Felch from the University of Maine at Augusta

Tom Nickerson from Southern Maine Community College and the Maine is IT! inititative
Workforce and education advisors
Jess Knox from Blackstone Accelerates Growth

Jeff Sneddon from Central Western Maine Workforce Investment Board

Christa Baade from Coastal Enterprises, Inc. (CEI), for the Portland Jobs Alliance

Kim Moore from Greater Portland Workforce Initiative

Sherry Wyman from Maine Department of Education

Don Gooding from the Maine Center for Entrepreneurial Development

Dana Connors and Ben Gilman from Maine State Chamber of Commerce

Ed McKersie from Pro Search, Inc.
In the media
IT is one of the fastest growing fields in Maine, but with an aging workforce, companies have started looking at ways to fill those jobs.

Educate Maine's "Project Login" encourages businesses to hire qualified candidates regardless of where they received their education or experience. The program has had success as businesses across Maine have joined the effort, including Idexx in Westbrook...

"We have a gap in talent and in the IT field. What can we do through the education system? But even outside of the education system if it is veterans? Native Americans? Immigrants? We don't care. We just want to find talent, we want them trained, we them to come in and hopefully supplement what we need to drive our businesses," said Mike Dubyak, chairman of Wex, Inc.

The goal is to encourage more companies to join the Project Login movement as well as get more Mainers to enter the field.
Idexx workers share their nontraditional resumes at a celebration of Maine's TechHire designation.

Atypical IT professionals took the stage Wednesday at an event to recognize the region's growing technology reputation and the opportunities it presents to people without college degrees.

"We're committed to creating opportunities for talented people wherever they gained their knowledge and skills," said Ken Grady, Idexx's chief information officer, at the veterinary diagnostics company's Westbrook campus. "All of us here today agree that there are many more people in Maine who are interested and aspire to careers in digital technology, who could excel in these careers, but don't know of the many pathways available to them."
National designation will encourage competency-based education, collaboration, and job placement in IT industries in Maine

This morning at IDEXX Laboratories in Westbrook, U.S. Senator Angus King (I-Maine) joined with Educate Maine and industry partners to officially launch Maine's designation as a TechHire region through Educate Maine's Project>Login.

The designation, which was announced by the White House earlier this month, will allow participating businesses in Maine to receive national resources and in-kind services from LinkedIn, LaunchCode, and other businesses to help recruit candidates and match them with positions more efficiently in IT and tech-related industries. The TechHire campaign aims to expand the network of computing and IT professionals in Maine through engagement, education, and employment opportunities.

"Maine's designation as a national TechHire region is a recognition of the great work being done across our state to promote careers of the future," said Senator King, a government partner of the TechHire initiative. "This designation will not only help equip people with the education and skills necessary to thrive in new, cutting-edge jobs, but it will also strengthen Maine's vibrant tech workforce and grow our economy. I applaud Educate Maine and all of the TechHire partners across our state for their work in matching hardworking Mainers to advanced jobs that will position our state as a leader in IT for years to come."